Perched high above the Sliema side of Marsamxett harbour is Fort Tigne' constructed during the latter part of the Knights of St. John's rule of the island, in 1792 to be precise. The unique view from its perimeter, especially at twilight or after dark, is possibly one of the best one can have of Malta's walled capital city Valletta, a UNESCO world heritage
site. This same view can also be enjoyed from the deck – like terraces of The Chophouse restaurant situated just below the fort.
In little more than five years The Chophouse has established itself as one of Malta's favourite restaurants. I choose the word 'favourite' as it is not solely the good food that attracts both foreigners and locals to this establishment. It is also the impressive selection of wines, whiskies and other fine spirits; the happy, welcoming staff; the magnificent
view. For many this is a venue where to impress a foreign visitor, to celebrate a special occasion or maybe just to enjoy a superb meal. In this year's summer menu
Chef Steve Mamo masterfully combines the traditional with the contemporary, and the freshest local produce with selected imported fare. Topping the list are the grilled
meats ranging from the hallmark Chateaubriand to the grilled flank steak with Kimchi. Malta's national dish, rabbit, makes its appearance in the form of a slow-cooked pressed belly simply cooked with garlic and white wine. The entrees cater for diverse tastes and include local octopus and sea bass dishes. Fresh fish is delivered daily.
The precisely climate-controlled wine cave boasts one of Malta's top selections including the Island's choicest wines. The whisky bar – The Chophouse is the seat of the Malta Whisky Club – offers an extensive variety both blended and not from around the world.
The Terrace restaurant enjoys views of Malta's Capital City across Marsamxett harbour, in an 18th century Grand Tour traveler's words, "One of the finest vistas in Europe."
Jot down The Chophouse at the top of your "to do" list in Malta. You'll be happy
you did.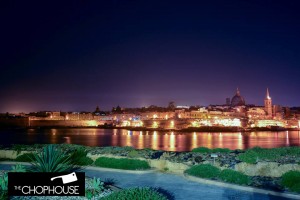 "One of the finest vistas in Europe."- an 18th century Grand Tour